FEATURE: PC Friendly Functions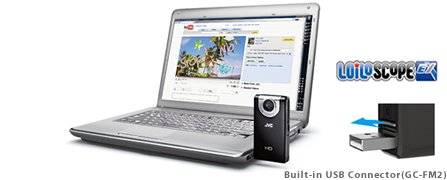 Just connect to any Windows® PC. LoiLoScope EX software is pre-installed in PICSIO so you can start using it right away, no installation to PC necessary!
iFrame video recording mode

iFrame is a computer-friendly video format that simplifies and speeds up the process of importing, editing and sharing video. iFrame is based on standards and works with compatible Mac and PC applications.
Easy to Create and Share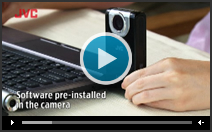 System requirements
Windows® (LoiLoScope EX)
OS
Windows® XP Home Edition/Professional (pre-installed, SP3)
Windows Vista® Home Basic/Home Premium (32-bit edition/64-bit edition, pre-installed, SP2)
Windows® 7 Home Premium (32-bit edition/64-bit edition, pre-installed)
CPU
Intel® Core™ 2 Duo, at least 2GHz.
(Intel® Core™ 2 Duo, at least 3GHz or
Intel® Core™ 2 Quad, at least 2GHz recommended.)
RAM
At least 2GB
GPU
At least Intel® 945
At least NVIDIA GeForce 6000 series
At least ATI Radeon 9600
Macintosh
*The software for Macintosh is not included.
The applicable software is required.
LoiLoScope EX has direct menus for upload to YouTube™ or Facebook in just a few simple steps. There are also options for exporting data to your iTunes® library, or outputting for DVD creation.

Editing and Sharing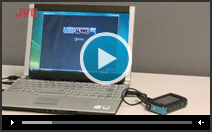 In addition to easy file trimming, you get a variety of special effects like animated decorations, plus image cropping and rotating.

Effect, Art Menu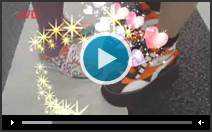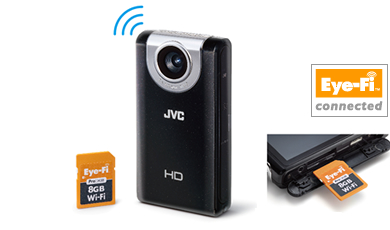 Insert an optional Eye-Fi card into the SD card slot and PICSIO is ready for wireless connection. In your home, or café, anywhere Wi-Fi is available, you can upload your videos and stills without using a PC.