FEATURE: Time-Lapse Recording and others
Time-Lapse REC: Easily turn ordinary scenes into extraordinary videos

Time-Lapse Recording captures video at an interval you choose. This way you can condense an hour-long event into just a few seconds. Try it on anything, and turn everyday scenes into fun videos like you've never seen before.
Time-Lapse REC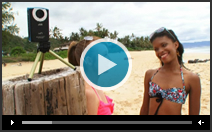 Others: MP3 Audio Recording

GC-WP10 comes with a MP3 audio recorder to capture everything from lectures to jam sessions in stereo.